-advertisement-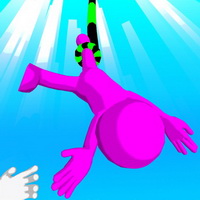 Bungeet!
From
: May-24th-2020
Apple Store Developer
:
Voodoo
Tags
:
Puzzle Games
,
Casual Games
,
IOS Games
,
Stickman Games
,
Arcade Games
Bungeet is a casual puzzle game created by a professional team. The game uses bungee elements as the theme of the game. Players will play a bungee in this type of game, using the simplest operations to play It is very magical and fun. Players can get a very happy competitive time here. The pressure accumulated by players in work and life will be fully released here.
Game features:
1. Many types of copies, different actual operations and feelings, you can feel the excitement brought by the bounce of the fingertips;
2. The stimulation is very exciting, various types of theme activities appear, select the children below, throw them to the swimming pool, and experience the visual impact of splashing water;
3. The villain with different tones, the backstory in cartoon design style, and many thematic style interfaces are presented, and the splendid fingertips can be felt more exciting.
Game highlights:
1. The sliding of smart fingertips can help you complete one challenge after another and pass smoothly.
2. Comfortable and quiet game atmosphere, players will feel especially relaxed after entering the game.
3. Leisure and decompression gameplay, roaming Atlantis with marine life, indulge in extraordinary fun.
Game review:
1. The game operation is very simple, click on the screen to jump, and avoid obstacles in front;
2. You can use gold coins, buy different skins, and have cool skills to use;
3. Rich and varied level scenes, you will fall if you are not careful, always pay attention to maintain the team shape.