-advertisement-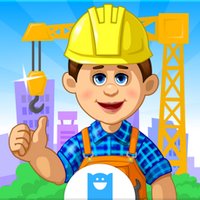 Play Online
Builder Games
From
: February-14th-2020
Google Play Developer
:
Bubadu
Apple Store Developer
:
Pilcom
Tags
:
Casual Games
,
IOS Games
,
Android Games
,
Building Games
,
Simulation Games
,
3D Games
,
Kids Games
,
Collect Games
,
Role Playing Games
It is your turn to run the workshop of the best handyman. Enjoy this experience of building, and prove to be an outstanding construction worker. Customers want the best products and services they can order. You can do tasks such as excavating the land, constructing or demolishing houses and buildings, making wood products, cutting wood, welding and other fun things. Build what customers have ordered to produce the greatest results using different building materials, equipment, and machines. A better name than wealthy ones!
• Woodworking: Precise cutting of the wood with various saws. Use a hammer or screwdriver to create a chair, table, fence, birdhouse or doghouse. Place the finishing touch to polish and paint the new wood product.
• Build the tower:Create an apartment or business tower which can lift heavy loads with the aid of a crane. If some sections are not ideal for the type of tower that you are designing, place them on the assembly line and pick the right part of the building.
• Build the house: In the fun mini-game Catcher, pick the builders tools and stop toys and candies. Then build a house to make it a dream home by installing windows, walls, a fence, a balcony, stairs and a roof.
• Demolish the tower:Sometimes they need to tear down an old building to make way for a new one. Use an ax, pneumatic hammer, box TNT, and wrecking ball. In the middle of the town you'll enjoy demolishing houses.
• Welding: Holes and losses need to be repaired. Until welding, do not forget to use a welding mask when finished brushing the iron construction or leaky pipes in a customer's house!
• Warehouse: You get so many orders! Get your cell! Customers want to order material for the building. Follow the shopping list, use a forklift and fill boxed truck.
• Timber cutting: In the Timberman mini game, first cut timber with a chainsaw or a hatchet to get wood for your constructions. Then use a crane to push all the logs and cut them with the circular saw.
• Construction site: Be the man of the construction site, so roll the sleeves up. Dig the stuff with a digger, take a truck to carry it, and use a ground roller to flatten it, to fill the holes with dirt.
• Tile art: Using multiple hammers to smash all the broken tiles, spray enough adhesive over the floor to lay new tiles and, meanwhile, solve an animal puzzle.
Complete all fun challenges, and be your city's boss maker!
Builder Games Features:
• easy-to-use game with a friendly interface
• many mini-games and creative possibilities
• over 50 different tools and building materials
• play and learn how things are made
• beautiful graphics and special sound effects
• earn coins to use entertaining tools