-advertisement-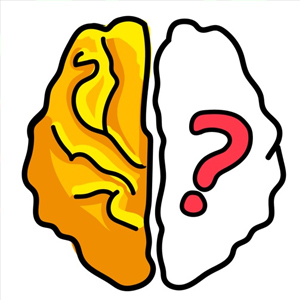 Play Online
Brain Out
From
: May-28th-2020
Google Play Developer
:
Focus apps
Apple Store Developer
:
EYEWIND LIMITED
Tags
:
Puzzle Games
,
IOS Games
,
Android Games
,
Food Games
,
Alien Games
,
Kids Games
,
Matching Games
'Brain Out' is an educational theme leisure puzzle spoof mobile game launched by Focus apps. Players need to open their brains in the game, guessing all kinds of unexpected brain teasers. Perhaps it is because of its subversive three-view and interesting personality, which makes the game limited to users aged 10 and above.
Game features:
The entire game of Brain Out exudes spoofing fun. The problem setting of the sky and the sky requires players to break through various rule settings and cross the heavy test through conditions such as brain teasers, reverse thinking, and high emotional intelligence reactions; the game is almost All questions are not dealt with rationally. If the player answers in the normal way of thinking, he will definitely get the wrong answer, and the correct answer often needs to be obtained in an unexpected way. In addition, interesting music and a refreshing game interface are also a major feature and highlight of 'Brain Out'.
Gameplay:
Compared to the one-choice gameplay of a certain era, Brain Out uses a more interactive form to display the question and answer method. Even players who are not able to speak the language can guess the problem and the problem with extremely simple elements in the level. Requirements, as to whether the correct answer can be made is another matter. However, the only piece of advice for this game is that you should not go out of the way, as long as you interpret it according to your natural knowledge, then you must be wrong.
Game screen:
The game screen of 'Brain Out' is concise and outrageous, and the style of various character shapes is low and young, as if the developer hired children in kindergarten to do game design. The immature screen not only does not make the game lose more fun, On the contrary, under their background, it makes the pointless and funny style more prominent, which complements the witty and childlike fun.
Game Reviews:
Judging from the actual effect, 'Brain Out' can be regarded as a game suitable for children. After all, adults who are constrained by rules and regulations are easily troubled by various stereotypes and cannot open their brains to solve puzzles correctly . On the contrary, children who are not familiar with the world and have no complete knowledge of the world are more likely to answer the questions in the game through their own unique perspective. After all, not every adult will think of picking up wigs that seem to be sparse before making an inventory when they see the need to count a person's hair. In short, as a puzzle educational game that can exercise imagination and logical thinking ability, and break the rules and ideas, 'Brain Out' is still very remarkable.
Editor recommends:
If you want to develop your own brain, if you have a soft spot for puzzle games, if you like humorous games with childlike style, if you want to experience casual educational games, then do n't miss this 'Brain' Out '.