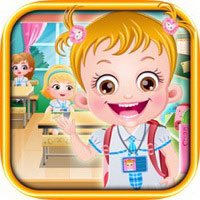 Baby Hazel School Hygiene
From
: September-29th-2019
Google Play Developer
:
Axis Entertainment
Apple Store Developer
:
Axis Entertainment
Tags
:
Casual Games
,
Time Games
,
IOS Games
,
Android Games
,
Story Games
,
Educational Games
,
Kids Games
,
Role Playing Games
,
Girl Games
,
Baby Hazel Games
The Description of Baby Hazel School Hygiene
: For healthy living, hygiene care is very important. So, mom teaches baby Hazel healthy habits to maintain personal hygiene. At the same time, she reads about the school inspection day in the calender of Hazel. Help Hazel in getting ready for the inspection day. Trim her nails, comb her hairs properly, polish her shoes and give her a clean uniform to wear. Let's see will Hazel live up to the expectations of her teacher and get a star for being a brilliant student. Enjoy learning hygiene tips with Hazel!