TYPE RUN BY VOODOO!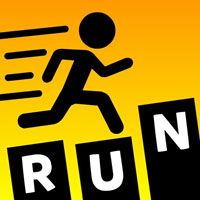 We provide guides, tips, tricks and tutorial of Type Run, video walkthrough of how to get three stars of each level, Solutions, Answers, Walkthrough, and Cheats of Type Run, enjoy!
Type Run
is a popular game published on Android Google Play And IOS APP Store.
Game highlights
1. 10 playable characters!
2. Typing speed is tested.
3. Multiplayer online competition.
Gameplay
Typing according to the sentences given on the track will allow the contestants to move forward. The fastest typing speed, the first to reach the finish line wins.
Game features
1. The faster you type, the easier it is to win!
2. While playing the game, practice typing and familiarize yourself with words!
3. Help you correct the typing details such as capitalization, spaces, etc!
Editor's recommendation:
Type Run is a fun and addictive typing race game. The operation of the game is simple, you only need to type according to the requirements to play the game. However, it is very easy to make mistakes in the process of typing, so this has certain requirements for your typing skills and carefulness. The typing process is very stress-relieving. Come and have fun!
Hi, we are devoted to provide the newest walkthrough, tip, cheat, tutorial of different games.
This is the walkthrough of the classic game Type Run!
TYPE RUN BY VOODOO! Walkthrough played by topgames.com.
If you enjoyed the video game and want to see more Type Run! Walkthrough videos, leave a Like, we will present by topgames.com soon.


100%