Turbo Stars Game Walkthrough Level 51-100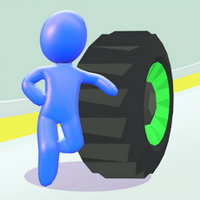 We provide guides, tips, tricks and tutorial of Turbo Stars, video walkthrough of how to get three stars of each level, Solutions, Answers, Walkthrough, and Cheats of Turbo Stars, enjoy!
Turbo Stars
is a popular game published on Android Google Play And IOS APP Store.
Turbo Stars is an easy-to-use racing game. Very interesting battles are waiting for you. Dummy characters will accompany you. Each challenge allows you to feel the charm of speed and passion. A large number of players participate. It is another one's competition, the fun is greatly improved, and the complex and changeable track. You have to be flexible to deal with sudden obstacles, rocks, buckets, flying knives, etc., and show your skills to surpass your opponents.
Turbo Stars Game Features:
The game uses 3D and cartoon style to shape the entire game screen, allowing players to highlight the authenticity of game operations while feeling fun.
The difficulty of the level will gradually increase as it goes backwards. Players not only need to increase their vehicle speed, but also need to be familiar with the use of various props.
A large number of coins can increase the speed of your unicycle to increase your speed in the race, allowing you to easily catch up with other players.
In the game, you can invite friends around to join in Turbo Stars, share joy, and enjoy this time. There is no countdown. Successfully reached the end of the game, so winning the first place is the key. Use the earned coins to buy better Chariot, enhance your advantage and win the championship.
Hi, we are devoted to provide the newest walkthrough, tip, cheat, tutorial of different games.
This is the walkthrough of the classic game Turbo Stars!
Turbo Stars Level 51-55-60-65-70-75-80-85-90-95-100 Walkthrough played by topgames.com.
If you enjoyed the video game and want to see more Turbo Stars Walkthrough videos, leave a Like, we will present by topgames.com soon.
Turbo Stars Game Walkthrough Level 51-100


100%