-advertisement-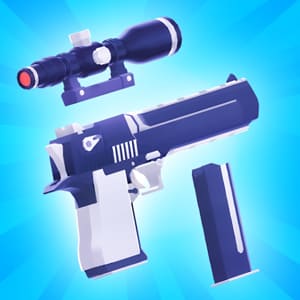 Play Online
Weapon Upgrade Rush
From
: November-7th-2023
Google Play Developer
:
Rollic Games
Apple Store Developer
:
Rollic Games
Tags
:
Casual Games
,
IOS Games
,
Android Games
,
Upgrade Games
,
Weapon Games
,
Gun Games
,
Arcade Games
,
Kids Games
,
Collect Games
,
Shooting Games
Game highlights

1. Collect money on the way to buy weapons.
2. Shoot obstacles and doors.
3. Upgrade your guns and evolve.
Gameplay
Swipe left or right to collect and move forward.
Game features
1. You have to avoid obstacles and use money to buy powerful weapons.
2. When avoiding obstacles on the track, use money to buy more powerful weapons and ammo.
3. Attack the crowd with precision and make sure that your bullets hit the target every time.
Editor's recommendation:
Weapon Upgrade Rush is a parkour game, at the beginning of the game, you only have an axe, which is the least lethal weapon, you have to keep moving forward, on the way forward, you have to collect bundles of money, but make sure you don't run into obstacles on the road, otherwise you will lose part of the money, which can be used to buy weapons and ammo when you have your weapons ready, you can aim at the crowds of people that keep appearing, and keep attacking and destroying them.