-advertisement-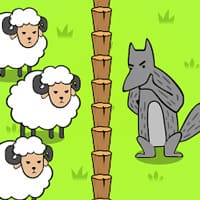 Play Online
Protect Sheep - Protect Lambs
From
: August-20th-2023
Google Play Developer
:
FunSpace
Apple Store Developer
:
Fun Space Limited
Tags
:
Puzzle Games
,
2D Games
,
IOS Games
,
Android Games
,
Strategy Games
,
HTML5 Games
,
Kids Games
,
Skill Games
,
Animal Games
Game highlights

1. The background story of the wolf eating the sheep.
2. Rich and interesting levels.
3. Experience the life of a farmer and fun building.
Gameplay
Tap to play.
Game features
1. Play as a shepherd, save your flock from wolves and protect the lambs.
2. Preset wooden stakes to separate sheep and wolves.
3. Protect the flock, if the wolves don't eat the sheep, you will win the game.
Editor's recommendation:
If you're looking for an engaging and exciting game that combines strategy, logic and excitement, Wolf and Sheep is the game for you. Modernized to ensure endless entertainment for players of all ages. Explore exciting gameplay, protect the flock and let the battle begin!