-advertisement-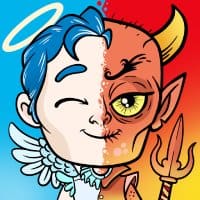 Play Online
Judgment Day: Angel of God
From
: May-9th-2023
Google Play Developer
:
Matchingham Games
Apple Store Developer
:
Matchingham Games
Tags
:
2D Games
,
Monster Games
,
IOS Games
,
Android Games
,
Quiz Games
,
Educational Games
,
Kids Games
,
Skill Games
,
Animal Games
,
Cute Games
,
Girl Games
Game highlights

1. Decide the destiny of all souls on Judgment Day as the Angel of God
2. Reveal what they have done in the world with the lie detector and give them one last chance
3. Judge famous people and ordinary people, see if they are angels or demons, good or evil
4. Play fun mini-games, such as burn one save one, choose the most evil one, match souls and bodies, and so on
5. Unlock new angel skins and dress yourself up
Gameplay
Swipe to play.
Game features
1. Beautiful graphics, simple operation, diverse gameplay
2. Combines elements of afterlife simulation, detective reasoning, and role-playing
3. Have exceptional levels where you judge some famous characters, such as commanders, emperors, queens, kings, celebrities, intellectuals, musicians, imposters, scientists, movie and cartoon characters, and so on。
4. Rule heaven and hell with fairness and mercy.
Editor's recommendation:
Judgment Day: Angel of God is an afterlife simulation, detective deduction, and role-playing game that lets you judge all souls as the angelic god. You have to reveal the truth about them with a lie detector and choose whether they go to heaven or hell. You will meet historical celebrities and ordinary people, angels, and demons. You can also play mini-games, collect coins and unlock angel skins. The game has beautiful graphics, simple operations, and various ways to play. Want to become the best master detective? Hurry up and download this game!