-advertisement-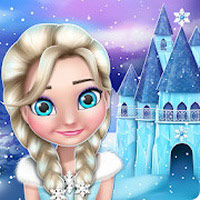 Play Online
Ice Princess Doll House
From
: March-5th-2020
Google Play Developer
:
Webelinx Love Story Games
Tags
:
Fashion Games
,
Android Games
,
Building Games
,
3D Games
,
Story Games
,
Cartoon Games
,
Movie Games
,
Adventure Games
,
Kids Games
,
Girl Games
Make a new kingdom rise in frozen isolation and transform our Princess Frosie into a beautiful queen by making a 'princess castle' baby doll in the latest games of princess room decor. If you've ever wanted to design a beautiful baby dollhouse with the snow sparkling white all around it, now's your chance to make your dream come true in these castle level princess games so amazing that you'll be left speechless! In our ice princess games, the most interesting room decor awaits you. So, to design and decorate a beautiful ice castle playhouse, express all your princess bedroom ideas or ideas for any other princess room. All you need is to get our newest Ice Princess Doll House Games free of charge and the joy of a dollhouse is guaranteed!
Other dream home games and games on house design will not make you feel the wind howling as the raging storm swirls ever closer to your baby dollhouse. The moment you join our new princess castle games, you'll be drawn to the various dollhouse design options immediately, and you'll never even want to try other doll house decorating games. You can build a play home in them but you will never be able to create and decorate a castle inside the perfect winter scenery for a baby doll princess. This dream-like decoration game will put right in front of your eyes the picture of the most beautiful winter fairy tale, and the best part is that you can build your own house and end your own fairy tale. Download Totally Free Ice Princess Doll House Games and see what actual 'princess room decor' games look like!
The time has come for games with ice princesses! Be among the first to design and decorate Princess Frosie's own house and share your creations with all your friends to prove that you have the most lavish dollhouses you've built in amazing 'princess castle games' Don't let your friends first make a believable dream home for frosty winter baby dolls! This is your chance to get more famous, so don't miss it! Get the top trending dollhouse games, the best ice princess castle decor items, and spend hours of free time playing fantastic princess games. Download Ice Princess Doll House Games right now to meet the ravishing Princess Frosie and see for yourself that the best princess room decoration games on the market have just been discovered!