-advertisement-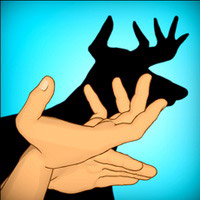 Hit Shadow
From
: March-5th-2020
Google Play Developer
:
Ketchapp
Apple Store Developer
:
Ketchapp
Tags
:
Action Games
,
Puzzle Games
,
Casual Games
,
Classic Games
,
IOS Games
,
Android Games
,
Arcade Games
,
Kids Games
Hit Shadow is a fun simulation game based on shadows. A unique shadow challenge is about to start. You need to use your hands to borrow the effect of light to complete the shape of various shadows. Seeing this game feels like It feels a bit familiar. In fact, I played this game when I was a kid. It is the use of light, the use of the position of the hands, and the shadow, and it will show a variety of animal shapes, such as pigeons, birds, Eagle, etc. can be done here.
Hit Shadow Game Features:
- Use dozens of different hand shapes.
- Discover a lot of combinations to give life to shadows of exotic animals!
- Try to perfect match your fingers position
- Earn more points and get an animated reward!