-advertisement-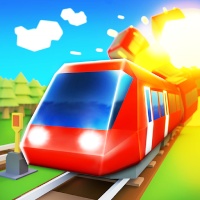 Play Online
Conduct THIS! – Train Action
From
: October-16th-2022
Google Play Developer
:
Northplay
Apple Store Developer
:
Northplay
Tags
:
Puzzle Games
,
Car Games
,
Avoid Games
,
Train Games
,
Casual Games
,
IOS Games
,
Android Games
,
3D Games
,
Kids Games
Game highlights
1. Fun train railway action game! Solve every train puzzle!
2. Beautiful graphics, interesting graphics to immerse you in this train game!
3. Beautiful soundtrack by composer Simon Kölle
4. Winner in the Best Quick Game category of the International Mobile Game Awards.
Gameplay
Tap to play
Game features
1. Abundant puzzles to exercise your brain!
2. Simple control method. Control the train with a tap!
3. Various themed areas are waiting for you to unlock!
4. Collect real-world trains
Editor's recommendation:
Conduct THIS! – Train Action is my latest favorite train action puzzle game! Not only does it have beautiful 3D models, but it also has music made by professional composers! Tap the screen to control the train and start your own journey! Multiple themed areas, different trains, and tons of puzzles immerse you in the game world! If you are a train and puzzle game lover, don't miss this game! Have fun!