-advertisement-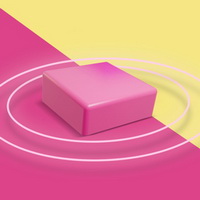 Play Online
Color Spread
From
: May-18th-2020
Google Play Developer
:
Popcore
Apple Store Developer
:
Popcore
Tags
:
Puzzle Games
,
IOS Games
,
Android Games
,
Kids Games
,
Block Games
Color Spread is a coloring theme puzzle game launched by foreign game company Popcore Games. Players need to spread various colors evenly in the level in the game. Although the game looks simple at first, the difficulty will become more and more difficult as time goes on. Players need to plan the area where each color is scattered in advance, so that various colors are combined into a uniform pattern in the level.
Game highlights:
Color Spread can be regarded as a fun game that seems simple but practical. Players need to simulate the different scenes formed by clicking each color in their minds. After calculation, they can start, otherwise they can only click for the player in the game. Provided 'Undo' and 'Skip' buttons. The simple colors and shapes create a refreshing entertainment environment for the game and make the game more intuitive.
Featured play:
Color Spread's gameplay is very interesting. It seems to poke a little bit to play the game and easily pass the level. In fact, in addition to the first few levels can be passed without mind, every subsequent level needs to think about the layout of each color in advance, otherwise There is only one dead end. Fortunately, the 'Undo' button provided by the game can help players reduce the difficulty of the game. In addition to the basic gameplay, the game also provides a variety of different types and styles of skin, which can be described as both intellectual and entertaining.
Picture scene:
Color Spread's screen is very simple, solid background, refreshing color blocks, the game screen gives a pure feeling, light saturation, so that players will not cause excessive fatigue of the eyes even if they play for a long time. In addition to color and saturation, the shape of the game is also extremely simple design, without any mess.
Game evaluation:
From the actual experience effect, 'Color Spread' belongs to the simple but extremely rich game type. The lower threshold for getting started allows almost all players and non-players to quickly enter the game state. The progressively deeper game difficulty also makes players more addicted and unable to extricate themselves.
Recommended crowd:
If you like puzzle games that pass the time, if you are tired of large games that require constant upgrades and clearance, if you have a soft spot for simple games, then do n't miss this Color Spread.