-advertisement-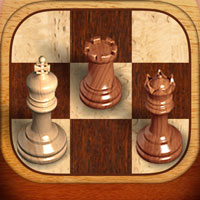 Play Online
Chess
From
: September-16th-2020
Apple Store Developer
:
Vintolo Ltd
Tags
:
Puzzle Games
,
Tactical Games
,
Board Games
,
IOS Games
,
Strategy Games
,
Simulation Games
,
3D Games
,
Time-killing Games
Game highlights
1. 5 levels of difficulty.
2. Hint option to find out the best next move.
3. Play either white or black
Gameplay
Simulate real chess rules.
Game features
1. Play against the computer or a friend.
2. 2D and 3D themes for chess pieces.
3. Unlimited ability to undo moves.
Editor's recommendation:
Chess is #1 popular game in the world. According to FIDE, about 600 million people play chess and it is the most widespread game on the planet. 'The Game of Chess is not merely an idle amusement; several very valuable qualities of the mind, useful in the course of human life, are to be acquired and strengthened by it, so as to become habits ready on all occasions...'. Come and have fun!