-advertisement-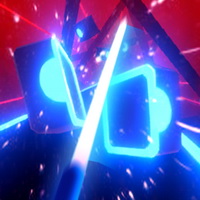 Beat Blade: Dash Dance
From
: July-5th-2020
Google Play Developer
:
BattleCry HQ Studio
Apple Store Developer
:
BattleCry HQ Studio
Tags
:
Action Games
,
IOS Games
,
Android Games
,
Sword Games
,
3D Games
,
Music Games
Beat Blade Dash Dance is a very interesting music beat game, with a colorful game style and fun gameplay. In this game, the music background is very colorful, there are many types, and the rhythm is full, you can enjoy it freely. Each copy has a different difficulty factor, and they all hone the game player's responsiveness and ability. If you like it, download it now!
Game features
1. Most of them are European and American songs, and the dynamic rhythm is more passionate;
2. If you want to become more cool, buy skins, there will be light effects behind you during the running process;
3. If you have the conditions, it's best to bring headphones to play, there will be a better experience.
Game highlights
1. Unique expression, full of dynamic hitting sound effect, delicate hitting feeling;
2. The carefully sculpted visual experience and the beautiful background that follows the rhythm of music, as if walking through the deep galaxy and the endless sky, giving you a great feeling of shocking the soul
3. Minimal one-handed operation mode, only one finger is needed to move the 'Aim' block between the screens.
Game advantage
1. The notes are now color-neutral and can be scored with any sword.
2. The higher the number of combos, the greater the score bonus. If you want to sprint high scores, try not to make mistakes.
3. If you want gorgeous lights to satisfy you, you can buy them in stores.