-advertisement-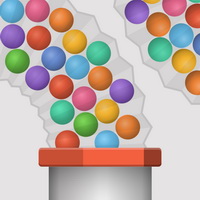 Play Online
Ball Pipes
From
: May-14th-2020
Google Play Developer
:
Popcore
Apple Store Developer
:
Popcore
Tags
:
Puzzle Games
,
IOS Games
,
Android Games
,
Physics Games
,
Ball Games
Ball Pipes is a very good casual water pipe ball game. In the game, players can see different water pipes, put the ball into the water pipe, connect, cut off, and leave the ball smoothly.
Game introduction
Ball Pipes is a joyous game that challenges the gameplay, allowing the ball to reach the goal through the pipe in the correct direction. You only need to rotate and move all the block paths with your fingers, so that these pipes can be successfully connected together and created More perfect passage.
Game features
Casual games for all ages, which can activate people's thinking and exercise the brain
The gameplay operation is also very simple, you can rotate it by tapping the twisted pipe with your finger
Any time and place, you can start your battle mode at any time
Irregular directions require you to give yourself better patience and connect two of them
In the later period, you need to use your brain, think about the most economical way
Minimalist game style, interesting challenges, you can continue to play even without internet
Editor recommended
In the game, the player connects the water pipe so that the ball above can smoothly enter the glass below through the water pipe. Fun cartoon game style, simple game control, connecting the water pipes can have fun. As the player plays, the level will become more and more difficult to the back, and there will be many water pipes that need to be connected.