-advertisement-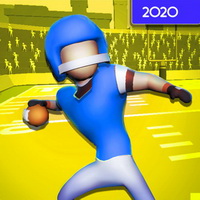 Touchdown Glory 2020
From
: May-8th-2020
Apple Store Developer
:
Good Job Games
Tags
:
American Football Games
,
IOS Games
,
Strategy Games
,
Reaction Games
,
Arcade Games
,
Kids Games
,
Ball Games
,
Sport Games
Touchdown Glory is a very fun and fun casual puzzle game. Touchdown Glory players need to constantly control their characters to complete a variety of tasks and designated actions. Try to do everything possible to send the ball into the opposite goal to win. The gameplay is very interesting. Welcome to download the experience!
game introduction:
1. Relatively simple actual operation, according to the display screen can be moved in four directions, drag and drop can be carried out to pass the ball;
2. Very hone the game player's dexterity, struggling to get rid of the enemy's siege and successfully send the ball to his companions;
3. If you take the ball to the goalkeeper on the other side, you can get a score, a very interesting game.
Game features:
1. Come to the most violent football game, both explosive and passionate, it is a battle between men;
2. In the bigger game field, carry out the happiest game battle, very interesting gameplay;
3. Apply to participate in various club team competitions, confront the world's top enemies, and confirm your overall strength.
Game highlights:
1. Very cartoonic sense of substitution, using the game method of the third perspective, it is very clear;
2. A large number of competition challenges, the actual operation of fun addiction, it is suitable for everyone to relax and relieve stress.