-advertisement-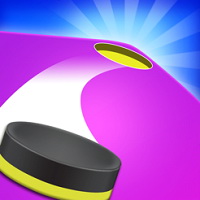 Play Online
Throw Disc
From
: June-2nd-2020
Apple Store Developer
:
Rollic Games
Tags
:
Launch Games
,
IOS Games
,
Strategy Games
,
Physics Games
,
3D Games
,
Defense Games
,
Skill Games
Throw Disc is also a very fun throwing game, a bit similar to ice hockey, you need to push the ball into the hole, quickly download Throw Disc to challenge your limits!
Game introduction
A casual game that controls the small ball to attack the opponent to guard the gate. In the game, two players are confronted. One player defends one side. Only when the loophole is found on the right time can the success be achieved. Different color villains will know the opponent, and many levels will appear. If someone is defeated, the next opponent will appear, and the importance of hand speed is well felt. Flexible operation is the key to victory.
Game features
1. The gameplay is full of challenges, the difficulty will gradually increase, so that you can not stop as soon as you play;
2. Learn to use small props to help you gain a greater advantage, collect bombs and other props to PK with the enemy;
3. Free choice of rich game modes, unlock more skins and themes, and have a new experience every time you play.
Gameplay
1. On a larger platform, stand on the opposite side and control the opponent's defense by controlling the ball. All knockdowns will succeed;
2. Be sure to pay attention to defensive strategies. Only by grasping the right opportunity can you pass the customs in a short time, the difficulty of each level is different;
3. As more and more games are won, more new levels will be unlocked, but the difficulty will continue to increase.