-advertisement-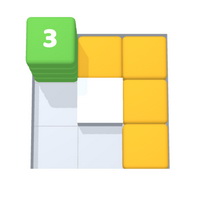 Play Online
Stack Blocks 3D
From
: July-5th-2020
Apple Store Developer
:
Popcore
Tags
:
Puzzle Games
,
Casual Games
,
IOS Games
,
3D Games
,
Time-killing Games
,
Block Games
Stack Blocks 3D is a more casual block mobile game, 3D visual effects, the game interface is simple and exquisite, blocks of different colors, move the blocks according to the game requirements, fill the corresponding space to pass the level, super many level challenges, like You can download the stacked brick 3D game experience!
Gameplay
Stack Blocks 3D is a puzzle game that requires you to fill all the space with the blocks inside. The gameplay here is more interesting, and the operation is also very simple, and there is a little light burning Brain experience, there will be several squares of different colors in each level, you have to move according to the numbers marked above.
Game features
It's time to wake up your brain and work hard for this challenge, you have to fill empty squares with colored blocks.
It is easy to start, but it becomes more difficult when you win one game after another.
It will be particularly casual to play, and it will make you more interesting here.
As the level of difficulty increases, so will the fun.
Gaming strategy
There will be a lot of small squares on the field, and you will use it to fill the space in the field. Only after successfully completing the current level, can you enter the next scene, every time All must follow the correct steps. If something is wrong, it will fail.