-advertisement-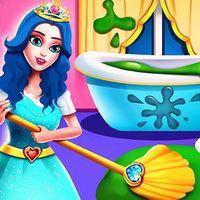 Play Online
Princess Home Girls Cleaning
From
: March-19th-2020
Google Play Developer
:
FunPop
Tags
:
Android Games
,
Educational Games
,
Kids Games
,
Girl Games
Sweet princess with blue long hair loves her big house, and has tried her best to protect the house. So baby girl, can you help to princess room cleaning as the following: Bed Room Cleanup; Bathroom Cleanup; Hall Cleanup; Kitchen Cleanup? Little helper, clean house now. you can have big home cleanup in this princess room or castle or house with home cleaning, tidy up, room decorating and renovating. Girls, help this little princess to clean up her messy but royal dream home palace in our girls clean up game! Do the bathroom clean up now. Arrange, tidy up, renovate, vacuum, wash, wipe, clean up, fix and decorate it beautifully in the princess game, home cleanup game, princess salon game and kids clean games.
Girls Cleanup and Tidy Up Game Features:
1. All girls have the princess's dream. Play messy house clean and go on new home adventures for kids! Be the house cleaner and clean house in the royal castle! The princess's castle is full of white snow, cold ice and messy dirt. Help her to fix house, clean home, tidy bedroom, and design room to get house cleaning skills in the girl clean tidy game.
2. Messy monster here, you need the housework help! Sweet baby, tidy bedroom first! Clean up by dusting, mopping, arranging things like a pink pillow, her toys, wiping walls and all the dirt. Amazing! You recover the pink princess dream house!
3. Tidy up girls' houses like princess bedroom and make girl clean! Look at your princess vacuum, royal dryer, princess-pink wardrobe with shining and glitter dresses, such a dream house for every princesses girls.
4. Girls, the bathroom is so messy. Prime the bathtub with soapy bubbles. Wow! The princess is playing water in the clean bathtub, is this princess salon spa game?
5. Fix the toilet. Don't get your baby toilet so stinky! Clean the messy monster make your toilet clean again.
6. Everything is messed up in the hall. Please help the princess to the housework help. Let's clean tidy it. Vacuum house to make floor shining. Such a fun princess games!
7.Such a cute piano! Fix it and then play piano for every child in our girls cleanup game.
You can get all house cleaning skills in the amazing girl clean game.
8.New menage! Royal kitchen needs your housekeeping. Sweet baby, help the magic princess clean the princess room. That is real housework help!
9. Clean the freezer! Clean out the messy fridge and put the groceries away with sweet baby girls. Baby girls, be sure keeping princess kitchen cleaning and tidy.
10. This girl clean game includes: Room Cleaning, Bathroom clean up,Cleaning Home Sweet home, Arrange home game, Indian Home Cleaning, Cleaning Game For Girls, Big House Cleaning, Home Cleanup, Girls House Cleaning, My House Cleanup. Have tons of fun playing the best cleaning games for girls and boys!
11. Girls' house clean is the best fun cleaning game with Princess for all the girls out there! Have fun in our kids' clean games.
Play this Princess Home Cleaning – House Clean Games to learn house cleaning skills and girl clean in the girly cleaning games.