-advertisement-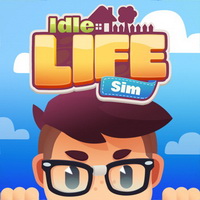 Idle Life Sim
From
: May-8th-2020
Google Play Developer
:
Codigames
Apple Store Developer
:
Digital Things
Tags
:
Idle Games
,
Clicker Games
,
IOS Games
,
Android Games
,
Management Games
,
Simulation Games
,
Time-killing Games
Create multiple avatars in this magical world, make important life decisions, and step by step to success. Choose your occupation, buy a house, go to the store and buy the things you want to own to decorate the room. Place the furniture in the way you like, and rearrange the room according to the actual situation. Customize your own home and appearance, learn how to live independently, improve professional skills, and earn more income. Accumulate wealth and move into a more spacious house to live when you have enough funds. Take over other jobs and earn more extra money. If life becomes tight, you can also ask your grandma for help. Explore all possible combinations and customize your personal avatars: choose character appearance, facial features, hairstyle and clothing. Try on all kinds of clothes, add them to your wardrobe, and prepare clothes suitable for various occasions. You can also experience the function of dyeing hair-it will definitely catch people's attention when working!
Game highlights:
Custom warm home:
Build a warm home! Start living independently from a small residence. If everything is managed properly, you will soon be able to stay in the mansion! Go to a home decoration store to buy various furniture and decorations. Start by choosing a bed, TV, rug, and stylish chair. Maybe you need a wall clock or a new sofa. Remember to choose a few paintings to put in your home, and then prepare a fully equipped kitchen for yourself. When the economic conditions are affordable, you can choose to move into a better house life or upgrade items.
Choose your occupation:
Become an artist, athlete, technician or chef ... A variety of different lifestyles are waiting for you! From the next ordinary job, gradually improve your work skills and become a leader in the professional field. Accept job promotion opportunities and climb to the top of your career. Work hard and fight for a raise. Earn reputation to improve job skills and salary. Engage in other sideline business to earn more extra money, buy modern clothing suitable for the new workplace, and then buy your own dream home.
Important choice
Manage the lifestyle of their doppelgangers and make them successful in their respective fields of expertise. Observe that they use items purchased from stores at home. See how they are active in their respective worlds. The development of each character will be decided by you!
Editor recommends:
If you like to develop casual games, you will love Idle Life! In this simple casual game, you can make important achievements by making important decisions. The story will start with a simple family, through its unremitting efforts to improve the lifestyle, and make great progress in the professional field and personal life. By planning and making good use of every small opportunity in advance, make your life unique!