-advertisement-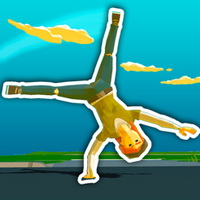 Flip Tumbling
From
: May-31st-2020
Google Play Developer
:
Bony Yousuf
Apple Store Developer
:
Bony Yousuf
Tags
:
IOS Games
,
Android Games
,
Physics Games
,
Jumping Games
,
Stunt Games
,
Kids Games
,
Sport Games
FlipTumbling is a casual mobile game. Players will control a character to perform parkour in the game world. This character can roll in various ways. The action of the game is very exaggerated and the picture is excellent. Players are recommended to download and play.
Game introduction
Falling from high altitude, free to roll, let you feel a different kind of flipping competitive experience.
When you roll from a high altitude, you need to use the arrow keys to approach the landing point. See how your rolling technology is!
Game highlights
1. The concise game screen is very magical jump gameplay to do more to help our characters challenge the complex terrain;
2. A lot of different free challenges and more fighting methods can accomplish more and face challenges with different contents;
3. There are a variety of different function props to expand more choices and operations, which can improve your jumping attributes in time.
Game features
1. Unlock more character images, choose dozens of skins at will, and start your challenge with a personalized rubber character;
2. Maintain the rhythm of the character's constant rolling, anticipate obstacles in advance to avoid rolling, and see who reacts faster;
3. There are gold coins in the game that can be collected, and more gold coins can be accumulated, and new characters can be purchased to unlock.
Gaming strategy
1. Low-mode mobile phone-style game screen scene, which can carry out various free battles and jump in the face of many different enemies;
2. Free 3D jumping perspective can experience jumping games from multiple angles, each time free operation can get more gameplay;
3. When jumping, you can accumulate energy to help you complete the jump faster, and be able to start various jumping adventures in time;
4. As the time increases, the difficulty of the game will increase and increase accordingly, so as to start more combat adventures in time.