-advertisement-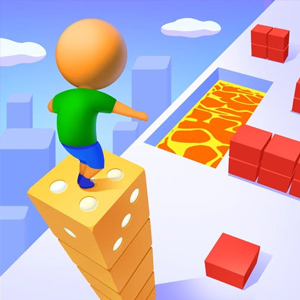 Play Online
Cube Surfer!
From
: May-24th-2020
Apple Store Developer
:
Voodoo
Tags
:
Avoid Games
,
IOS Games
,
Arcade Games
,
Skill Games
,
Collect Games
,
Cute Games
,
Block Games
Cube Surfer is a super-magic casual level game. In the game, you can control the character movement through flexible control methods, and collect blocks of the same color to cross the obstacles. Each crossing is challenging. Until you reach the end and complete the mission goal. Players who like to challenge will come to participate!
Game features:
1. The game continues the classic casual cool running gameplay mode, you need to help the villain collect the corresponding blocks in the level so that you can continue to move forward;
2. There are a variety of different blocks waiting for you to collect and match, and you can easily cross the past to complete exciting challenges when facing obstacles;
3. Accomplish interesting challenges through flexible operation and control methods, and master the skills smoothly across obstacles to complete fierce competitions to gain advantages;
4. Every time you cross an obstacle, it will consume one block. You need to collect more blocks so that you can reach the final stage to find opportunities to speed up the adventure.
Game highlights:
1. In the game, you can enjoy a unique fun atmosphere, and get a deeper level challenge by matching the sensitivity in a super fast rhythm;
2. There are also diamonds and other obstacles in the track to test everyone's skills. Unlocking various props can enjoy more joyful atmosphere and surprise you.
3. Nice parkour casual games enjoy more joy and get more challenges. The content is quite exquisite and stylish. You can join it at any time.