-advertisement-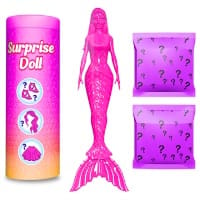 Color Reveal Mermaid Games
From
: May-29th-2023
Google Play Developer
:
Beauty Girls
Apple Store Developer
:
Meta Apps Inc
Tags
:
Casual Games
,
Fashion Games
,
Dress Up Games
,
2D Games
,
IOS Games
,
Android Games
,
Kids Games
,
Collect Games
,
Cute Games
,
Girl Games
,
Make up Games
Game highlights

1. Open the surprise mermaid eggs to discover different mermaid dolls.
2. Reveal mermaid makeup with water and see how they change.
3. Dress up and take pictures of mermaids to show off your fashion skills.
Gameplay
Tap to play.
Game features
1. Simple and interesting operation and guidance.
2. Various mermaid dolls and accessories.
3. Exquisite picture and sound effects.
4. Game content suitable for all ages.
Editor's recommendation:
Have you ever wanted to explore the mysteries of the ocean floor and discover the hidden mermaids? Then you will love the game Color Reveal Mermaid Games. You can open six surprise mermaid eggs in this game. Use water to reveal their makeup, dress them up and take pictures. You can collect a variety of mermaid dolls that come in different colors and styles, as well as cute accessories. Show your fashion skills and make them even more beautiful. Color Reveal Mermaid Games is an amazing and fun game that will make you feel the ocean!