-advertisement-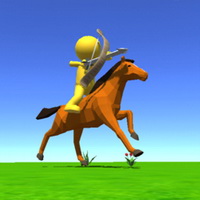 Play Online
Archer Warrior
From
: June-16th-2020
Apple Store Developer
:
Voodoo
Tags
:
Avoid Games
,
IOS Games
,
3D Games
,
Stickman Games
,
Kids Games
,
Shooting Games
Archer Warrior is a competitive game full of joy and joy. Save the hostages on horseback, upgrade your character attributes, make the operation more enjoyable, freely take risks with your friends, release PK, release powerful power, and defeat your opponents , Run and conquer the whole grassland, you are not only your own hero, but also the king on horseback.
Game features:
1. Unlock new maps and start a new battle mode, from unarmed characters to galloping on horseback, you will continue to grow;
2. Defeat your opponents, upgrade your strength, flexible response speed allows you to avoid various dangers in time;
3. Under the premise of ensuring your own safety, you can save the hostages, aim at your enemy, and successfully shoot the opponent to win.
Game introduction:
1. Diversified game levels, quickly upgrade your level, voodoo classic game, people can not stop;
2. Different operation methods, rich competition activities, multiple modes are waiting for you to participate, endless challenges without fatigue;
3. A small and fresh game style, without any advertisements, and a quick battle, allowing you to easily play anytime, anywhere.
Editor recommends:
With a light rhythm, play with your enemies, who will persevere in the final PK to win the opponent in the last move.
Improve your strength, enhance your armed force value, diversified growth tasks, and upgrade weapons to become more powerful.